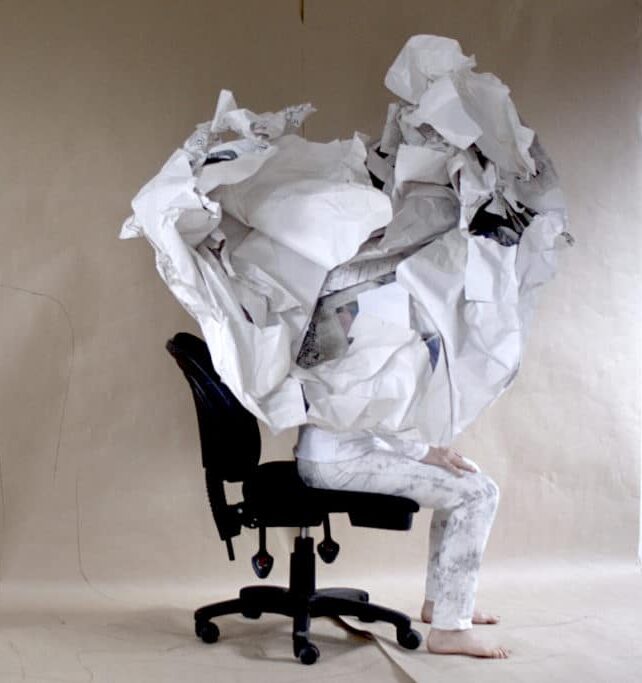 21 May

getting into the deep end of my research
Closing a Chapter to open a new door
As an artist, I collect endless amounts of images, newspaper articles, flyers of other artists work. I make sketches and write notes to myself of ideas that flicker through my mind. Drawers and cupboards filled with years worth of inspirational material. Then comes a time where this becomes undefined stuff that only weighs me down, I do not know what is there anymore. Now is the time to clean out the closet. It is there for a purpose, so I need to pay attention to all these things.
I filled up my car with boxes of this material and took off to my residency on Kangaroo Island. Once there I emptied my car, tipped the content on the floor and started to sift through the piles. In looking and reading I discovered many threads of thought and then slowly assembled them in layers on the ground. A thick carpet formed underneath me, I was physically processing through the accumulation I have created by holding on to the stuff. I was losing myself in a sea of association and diving into the mystery of revisiting past experiences. Through the exploration into the last corners of my collection of interesting things, I turned all the bits into one piece. This one piece merged to be a new object and a performance came into existence.
As the years go by I notice the importance to part from clutter and make sure there is enough space in my surrounding and my mind to move and breath. All the stuff that we hold on to, as a witness to our achievements, this physical baggage can become a burden that ties us to the past. As I age I notice the skeletons that are hiding in the closet need to be released and with that the need for the cupboard becomes obsolete. Nevertheless, it is important to value the accomplishments that have manifested themselves in the items we surround ourselves with. Memory and sentiment are attached to things if we can face the fear of losing them and through a ritual transfer our valuables into small gems then we can navigate the contemporary complex world of accumulation. I found this ritual of transforming all the ideas into a performance, at the end of the performance the object was all used up.